What Is a Plush Mattress?
Shopping for a new mattress and wondering what is a plush mattress? A plush mattress is usually one that has more cushioning than other types of mattresses.
They typically have soft padding around the edges to increase mattress comfort and make it feel softer. You'll also find that many people prefer these types of mattresses because they provide excellent pressure relief.
If this sounds like something you're interested in, keep reading to learn about some different benefits as well as advantages and disadvantages associated with these types of mattresses. We hope this post helps!
Best Plush Mattresses
In this section, we present the best plush mattresses, as well as a detailed review of each one. We chose only non toxic mattresses, made from certified materials because cheaply produced mattresses contain a lot of harsh chemicals and bad quality materials. After all, we do rest on them every night!
We took into consideration price, comfort and durability when compiling this product review list. Please note that prices may vary depending on deals currently going on. Let's start with our number one plush mattress choice:
Botanical Bliss Organic Latex Mattress
Botanical Bliss
Mattress Type: 100% Latex Mattress
Certificates: GOTS, GOLS, Greenguard GOLD, OEKO-Tex, Eco-INSTITUT®, FSC
Warranty: 25 Years
Sleep Trial: 100 Nights
Sizes: Twin, Twin XL, Full, Queen, King, Cal King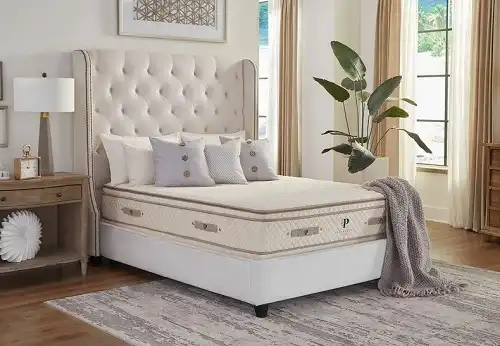 The Botanical Bliss Organic Latex Mattress is a luxurious, organic mattress made with the finest quality GOLS certified organic latex and cotton. It's also GREENGUARD Gold-certified so you can rest assured it contains no toxic chemicals.
This organic mattress with plush surface is known for superior comfort as well as being highly recommended by orthopedics specialists or chiropractors to relieve your pressure points when sleeping.
It´s available with medium firmness, recommended for side sleepers, and plush firm for back sleepers.
Eco Bliss Hybrid Latex Mattress
The Eco Bliss Mattress By PlushBeds
$649 (Use promo code GREEN100 for a $100 discount)
Type of Mattress: Organic Latex and Foam Mattress
Mattress Firmness: Medium, Medium Firm
Certificates: GOTS, GOLS, CertiPur-US
Mattress Sizes: Twin, Twin XL, Full, Queen, King, Cal King, Split King
Sleep Trial: 100 Nights
Warranty: 25 Years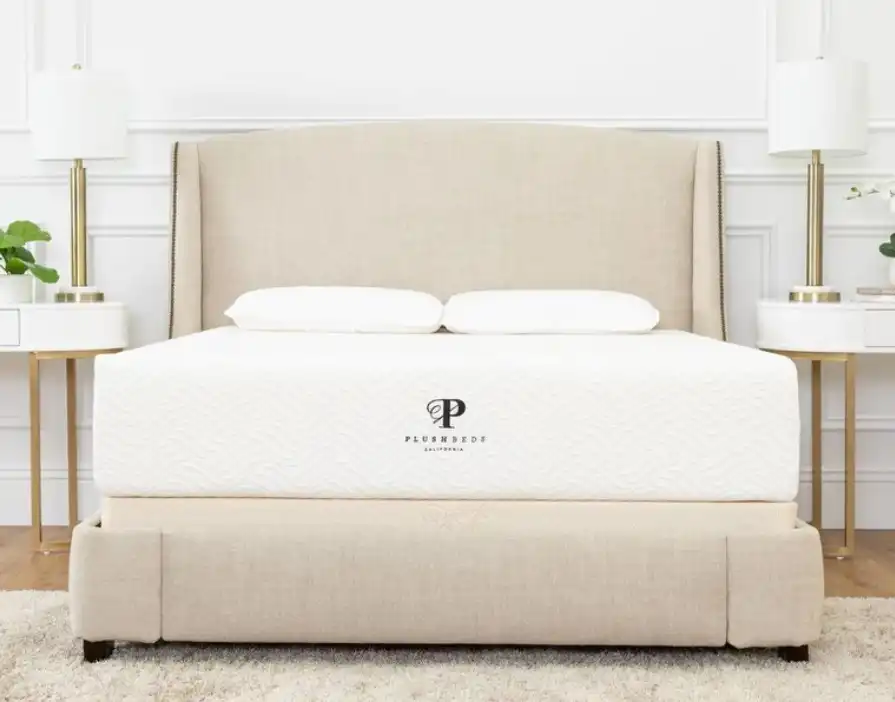 The Eco Bliss Hybrid Latex Mattress is the perfect blend of luxury and affordability. This plush memory foam mattress is handcrafted in America, with 100% natural latex top comfort layer, supportive core made from CertiPUR certified foam.
It also has Oeko-Tex Standard 100 certification meaning it meets human safety standards as well! And then there's that super soft stretch cotton cover all rolled into one affordable price point - what more could you want?
Cypress Hybrid Mattress
Type of Mattress: Innerspring Memory Foam Mattress
Certificates: Certi-Pur, Greenguard GOLD, Oeko-Tex
Sleep Trial Period: 1 Year
Warranty: 25 years
Sizes: Twin, Twin XL, Full, Queen, King, Cal King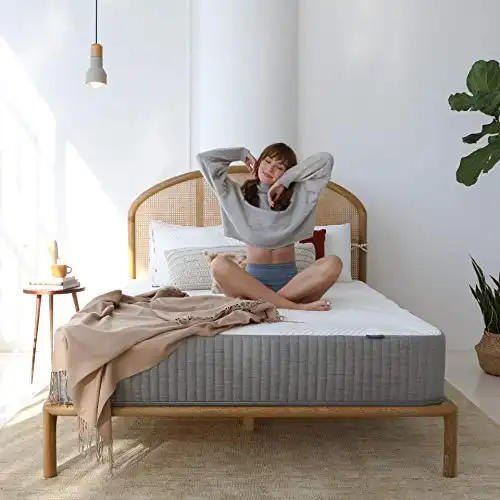 The Cypress Mattress is an affordable memory foam innerspring mattress. Made in America with our cooling, charcoal-infused CertiPUR US® certified foam with up to 20% plant-based BioFoam® and 100% carbon offset materials.
This memory foam mattress is made using precision crafting techniques so it will conform perfectly around your body's curves without any uncomfortable pressure points or noticeable rebound when you get out of bed every morning.
This bed offers plush contouring comfort, and great breathability, as most innerspring mattresses, a perfect mattress for hot sleepers.
Who Should Use a Plush Mattress?
Everyone wants to be as comfortable as possible when they're sleeping, but is a plush mattress really the solution for everyone? The answer is no. The term "plush" and "firm" and all things in between will come up often when you're shopping for a new mattress.
The key to knowing if a plush mattress is right for you is understanding these terms. Your sleeping positions, joint health and personal preferences can all affect what you find comfortable.
So, who ideally should use a plush mattress? See if you fit this description:
If you do, you are likely going to find more comfort from a plush, soft mattress. A plush mattress will follow the contours of your body and provide support and pressure relief.
Why Do Firmness Levels Matter?
There are many mattress firmnesses to choose from, but there´s only one bed firmness that's right for you. You'll understand this better once you understand the difference between a plush mattress and a firm mattress.
It's not as simple as one is softer than the other because often, even firm beds can feel just as soft when you press down with your hand. The difference is the layering of each.
A plush mattress has more comfort layers on top, whereas the firm bed has fewer, resulting in a firm feeling when you lay on it with your whole body weight. Both kinds of mattresses have support layers on the bottom. If you choose the wrong type for your preferred sleeping position, you can cause unnecessary pain.
For example, if you're a stomach sleeper and choose a plush bed, you will not get the proper spinal support and you may end up arching your back and causing problems later on. If you choose a firm mattress, but you're a side sleeper and not overweight, you will be putting pressure on your joints and causing pain.
Plush vs Pillow Top Mattress
Plush mattresses are padded with plenty of cushioned top layers. The support underneath is readily felt, however, especially if you're a side sleeper. Whereas a pillow top mattress has so many comfort layers sewn on top of the bed that it may feel unsupportive to someone who is lightweight.
The plush mattress comfort layers are usually quilted under the surface layers and give ready support and adequate cushioning. But if you are a heavier individual, you may find a pillow top to add more comfort before you sink to the supportive, firm layers underneath.
Plush vs Ultra-Plush
Ultra-plush is basically an extra soft plush mattress. The material is often a memory foam style that contours to your body and gives precise support in the position you are lying in. Some ultra-plush mattresses even have a comfort layer on the top and the bottom of the mattress.
Plush vs Firm
A firm mattress gives good support to back or stomach sleepers. It has a comfort layer on top like plush mattresses, however, it has fewer layers so that the sleeper lies on the support layers mostly.
The resulting feeling is a firm layer of stiff support that is ideal for keeping proper spinal alignment. A firm mattress is considered the opposite of a plush mattress.
Which Is the Best, a Firm Or a Plush Mattress?
It all depends on your individual needs. These factors will determine whether a plush or firmer mattress is the best choice for you:
Are Plush Mattresses Good for Your Back?
They can be. For example, if you are not overweight, and prefer the softer feeling of a plush mattress because you tend to sleep on your side, then this kind of bed is good for your back. It's going to take pressure off of your joints in your shoulders and hips and thus take some strain off your back.
The proper space to "sink in" to the mattress on your side will allow your spine to be better aligned. Now, if you are a back sleeper, a plush mattress can be too soft for your sleep position and cause your hips to sink too much.
The key is then to find the right level of plush. Plush mattresses can be good for back sleepers and in fact, they may be better than the firm ones to allow a natural "S" shape in your spine.
But you do need to make sure it's not too soft. If you are a stomach sleeper, a plush mattress is not a good idea. Your back will arch with the soft top and cause backache in the long term. The plush mattress would give inadequate support for stomach sleepers.
Can You Flip a Plush Mattress?
Unless your mattress is a double-sided mattress, meaning that it has cushioned comfort layers on the top and the bottom, you should not flip it.
A normal plush mattress has only one side cushioned, so if you were to flip it, you would be sleeping on the supportive side and not the comfort layers.
Is It True That Plush Beds Are Unhealthy?
No, a plush bed is not unhealthy. This is a misconception. A plush bed is only problematic if you sleep on your stomach or are overweight. Then there is a chance that it won't give you sufficient support for your spine.
A plush bed can actually be beneficial to most sleepers because it gives luxurious comfort while still supporting your alignment.
What Are The Pros And Cons of Plush Mattresses?
The pros and cons of plush mattresses are relative to your individual body needs. We have already discussed who should ideally be sleeping on a plush mattress.
If you fit the bill and you're trying to decide whether or not to really purchase a plush mattress, consider these pros and cons:
Conclusion
A plush mattress is a medium-firm mattress designed to give you the best balance of softness and exceptional support.
These mattresses are typically made with comfort layers made from latex, memory foam, or polyurethane. They provide extra cushioning for your joints while still being supportive enough to ease back pain.
Plush mattresses are a perfect addition to most people's bedrooms to give a good night's rest and spinal support without compromising your comfort.
You can use these lists to be sure you're buying the right mattress for your body type and comfort levels. Before you make a purchase, be sure a plush mattress is a good choice for you!