What is Global Organic Latex Standard (GOLS)?
Latex mattresses are amazing. They're comfortable, supportive, and they can last for years if you take care of them properly. However, there are many types of latex on the market today. How do you know which one is best?
GOLS (Global Organic Latex Standard) has come up with a system to determine what type of latex mattress is right for you! Read on to find out more about this important standard.
GOLS—The Natural Latex Certificate
Global Organic Latex Standard is a non-profit, international association that provides a certification system for rubber tree latex products worldwide. GOLS-certified latex is produced by processing rubber trees harvested without harming the environment, workers, or local communities.
GOLS sets strict limits on harmful substances that could be present in latex to protect the health of the end-users as well as people involved in the production chain. GOLS latex is tracked through the entire supply chain using transaction receipts to ensure only certified product is sold.
What Does It Take to Become GOLS Certified?
In order to obtain GOLS certification, companies need to apply by filling out the application form to start the GOLS certification process. The manufacturer has to follow strict criteria throughout the whole chain of production.
The latex products undergo testing for hazardous chemicals, synthetic latex, and other additives. Once the manufacturer meets all the strict criteria, they are awarded GOLS certification. If they fail the certification, the manufacturer receives guidelines that will help them to improve and get certified.
The GOLS certification has a variety of requirements. Here are a few examples:
GOLS Environmental Criteria
The environmental criteria in certified organic plantations and factories include minimization of water use, energy-saving, and avoidance of chemicals that are harmful to the environment throughout the manufacturing process.
The criteria also include looking for renewable resources. GOLS certified manufacturers are encouraged to recycle as much as possible and using PVC packaging is banned.
GOLS Social Criteria
GOLS certified organic rubber plantations and factories must provide fair working conditions and their employees must be paid adequate wages and child labor is strictly forbidden, as well as forced labor.
Freedom of association and the right to collective bargaining shall be enjoyed by all workers without any discrimination. All women and men who perform work of equal value must receive equal pay, benefits and opportunities for advancement.
Other GOLS Criteria
Other GOLS criteria also involve protecting customers from unsafe practices throughout the manufacturing process, such as using harmful dyes and chlorine bleaches, as well as heavy metals, GMOs, and other chemicals that are hazardous to human health or the environment.
Best GOLS Certified Mattress Brands:
In this section, we'll discuss the best mattress brands that are GOLS certified. We'll also include a quick description of each, so you can find the right one for you.
Botanical Bliss
Mattress Type: 100% Latex Mattress
Certificates: GOTS, GOLS, Greenguard GOLD, OEKO-Tex, Eco-INSTITUT®, FSC
Warranty: 25 Years
Sleep Trial: 100 Nights
Sizes: Twin, Twin XL, Full, Queen, King, Cal King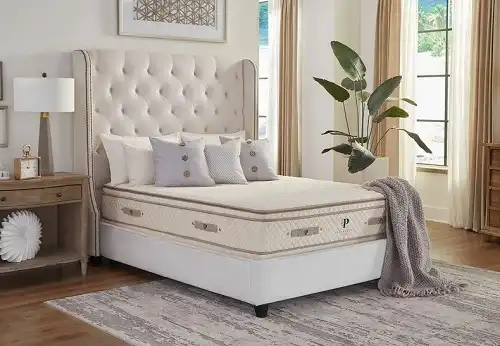 Best GOLS Certified Latex Foam Pillows:
If you're looking for quality GOLS-certified organic latex pillows, you'll be pleased to know that there are quite a few to choose from.
Disclaimer: As an Amazon Associate I earn from qualifying purchases.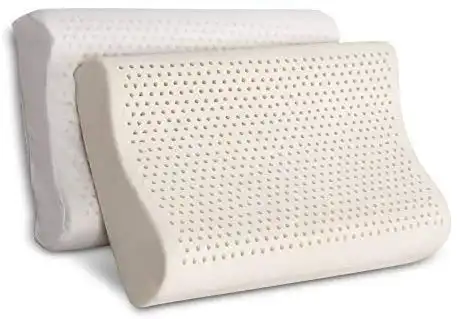 1) Latex Pillow for Neck Pain by Organic Textiles: This is natural latex pillow designed to specifically help with neck pain. The GOLS latex is hypoallergenic, breathable, antimicrobial and resistant to dust mites and other allergens.
2) Organic Shredded Latex Pillow by PlushBeds: This pillow is made from GOLS latex and it's got a GOTS certified organic cotton cover. This fluffy and moldable pillow will help relieve tension in the neck by providing moderate to firm support.
FAQs
Why Should I Buy a GOLS Certified Mattress?
For those who are looking for a natural latex mattress, Global Organic Latex Standard (GOLS) is one way to ensure you get what your money can buy. It demonstrates that the mattress company has followed all procedures in order to create an organic product and give customers peace of mind that it's not just "natural" on the label--their science has been verified through rigorous inspections before coming onto retail shelves.
Buying a GOLS-certified mattress helps make sure that the latex foam components of your mattress are free from many toxins and chemicals that could be hazardous and harmful to your health.
GOTS vs GOLS: What's the Difference?
The main difference between GOTS (Global Organic Textile Standard) and GOLS (Global Organic Latex Standard) is the type of raw materials that they track. While GOTS certifies textile products ranging from clothing to carpets, GOLS regulates organic latex beds and latex pillows.
The certification process is similar in that it is based on strict guidelines for both GOTS and GOLS. When buying an organic latex mattress, it's best to choose one that holds both GOLS certificate for latex and GOTS for other organic raw materials used.
Is it Safe to Purchase a Non-GOLS Certified Mattress?
A non-GOLS-certified latex mattress can still be safe, as long as it's a latex-free mattress. You can purchase a wool or cotton mattress other organic certifications, such as GOTS, USDA or Oeko-Tex certificate, or a memory foam mattress that comes with a CertiPUR-US certificate or Greenguard GOLD certificate.
How Do I Know If the Whole Mattress Is GOLS Certified?
The best way to ensure that your whole latex mattress is GOLS certified, ask to see a copy of its GOLS certification. Verify that the accreditation is valid for the mattress's manufacturer, not the rubber plantation where the latex was sourced or one of the factories that made some of its components.
Only items that have more than 95 percent organic materials can be labeled "Certified Organic" and you can find this information on the label. If the product is not organic, the label will read something like "made with X percent of organic fibers."
Are GOLS-Certified Mattresses More Expensive?
Yes, unfortunately, GOLS-certified mattresses are more expensive due to both environmentally-friendly and socially responsible manufacturing and safety regulations. So if you're looking for a cheap mattress, a GOLS mattress may be too expensive.
However, if you want to make sure that your mattress is free from toxic chemicals then it's worth investing in a GOLS organic mattress.
Who Offers the GOLS Certification?
The organization that issues GOLS is Control Union. They are the pioneers who devised GOLS and they offer certificates of compliance. Control Union is active in inspection and certification in the organic and sustainable agricultural and textile industry. They offer different kinds of certifications, such as USDA NOP, JAS, EU, etc.
Control Union has progressively developed the certification process for goods manufactured from organically grown latex in collaboration with well-known manufacturers and trade associations to help produce high-quality latex products.
What Are Dunlop Latex and Talalay Latex? Are They Both Organic?
Dunlop latex and Talalay latex are two types of latex foam that have been processed in different ways to achieve a desired level of comfort. Both can be certified organic, but they have different feels: While Dunlop latex is firm and dense, Talalay latex tends to be softer, and many mattresses use a combination of both to achieve the perfect comfort level.
Conclusion
If you're planning to buy a Global Organic Latex Standard (GOLS) organic mattress, then you are making the choice of only supporting manufacturers who work ethically, track their supply chain all the way back to farm level, and ensure that no child labor is used.
You also have the assurance of what's inside your mattress. No nasty chemicals or cheap fillers, just organic latex from tropical trees and other certified organic materials.
GOLS-certified mattresses have been independently tested by accredited laboratories and have been proven to contain no harmful substances. You can be confident that your mattress made of organically grown latex and other natural materials is a healthy, non-toxic choice for you and your family.