Is Fiberglass in Mattress Safe?
Fiberglass is a flame retardant used in most memory foam mattresses. After recent reports of fiberglass shards escaping from mattresses and contaminating homes, you may be asking yourself if fiberglass in mattresses is safe.
In this article, we'll tell you all you need to know about the risks associated with sleeping on a fiberglass mattress, how to reduce these risks and where to buy a mattress without fiberglass.
Why Is There Fiberglass in Mattresses?
Mattresses sold in the United States have to contain fire retardants, and fiberglass is often used as a cheap solution for providing that protection without using harmful chemicals.
Fire-retardant chemicals were sometimes found in mattresses before it was discovered that some of them could be harmful to human health and we would recommend looking at a Certi-PUR US certification or similar certifications, which will give you reassurance your mattress does not contain these chemicals.
Without a fire barrier, memory foam mattresses are very flammable. The fiberglass is designed to melt in on itself without burning, so it forms an impenetrable layer around the mattress that will keep you from being burned by molten material should your mattress end up catching fire.
Is It Safe For Mattresses To Have Fiberglass?
The fiberglass in a mattress is a good fire barrier, but you'll need to be careful about how you handle your cover. The long and thin fibers of fiberglass can escape from mattresses if they are not covered properly.
If this happens, it will get all over everything around your bed, which means that even after going through an effort to clean up what's left on top of surfaces, there may still be some deep in cracks or crevices where they can be difficult to remove.
Fiberglass can be dangerous to your health as it can cause skin and eye irritation, sore throat and nose as well as aggravate bronchitis and asthma symptoms. Keep yourself safe by choosing a durable mattress with a strong cover that will not rip or tear, putting you at risk of inhaling fiberglass. It means that you should not go for a cheap, low-quality mattress.
Where Is The Fiberglass Inside The Mattress?
The flame retardant layer of a mattress needs to surround the foam so that it is protected from being engulfed in flame. If you are buying a bed with fiberglass, then this will be woven into an internal cover and not the outer cover to make sure you've got no direct contact with fiberglass.
Be sure to never remove the cover that uses fiberglass, so it's never released into the air and all over your room.
How To Spot A Mattress That Contains Fiberglass?
If you are looking for a budget priced mattress, there are two ways to determine whether or not it contains fiberglass inside the foam.
You can relax if you see removable covers but keep in mind that they may still contain some fire blocker substance like glass wool instead of more expensive materials.
What Are the Advantages of Using Fiberglass Free Mattresses?
Disclaimer: As an Amazon Associate I earn from qualifying purchases.
How Do You Clean Mattresses with Fiberglass?
If your mattress gets stained and you know it's got fiberglass, be sure to never remove the cover. You use a spot cleaner and follow the manufacturer's instructions. You can also dip a cloth in water and soap mixture and spot clean by rubbing the stain.
Another thing you can do is use baking soda on the stains, it works especially well with liquids, including urine. Sprinkle baking soda over the stains and leave it to work for 24 hours. Then, vacuum all remaining soda with a vacuum cleaner.
To protect your mattress from stains, use a waterproof mattress protector and a mattress topper. Be sure that they are machine washable to keep your bed clean without ever having to remove the mattress cover.
How To Remove Fiberglass from My Bedroom?
If you happen to remove the cover of your fiberglass mattress, follow these steps to clean all surfaces in your room and reduce your exposure to fiberglass. Before you start, we recommend you use a protective mask to avoid inhaling the particles:
What's The Best Fiberglass-Free Mattress?
Although most mattresses use fiberglass as a fire retardant, there are many options available that use a different type of a fire retardant barrier, take a look:
Memory Foam Mattresses without Fiberglass
PlushBeds Ocean Mist Memory Foam Mattress
The Ocean Mist Mattress by PlushBeds
Type of Mattress: Memory Foam Mattress
Mattress Firmness: Medium Firm
Certificates: Greenguard Gold, Certi-Pur US
Mattress Sizes: Twin, Twin XL, Full, Queen, King, Cal King, Split King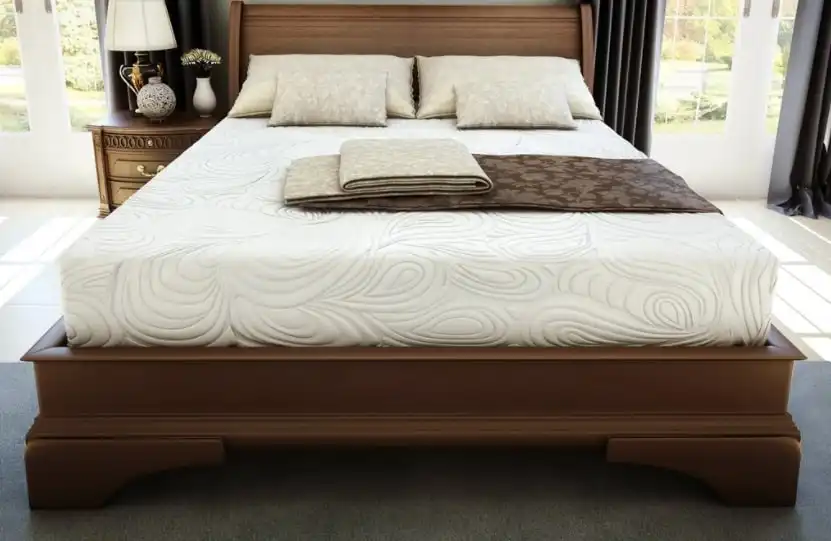 PlushBeds has opted to incorporate a healthier, non-toxic and fiberglass-free fire solution in their Ocean Mist mattress. They use a proprietary, naturally derived fire barrier that's both safe and effective. Derived from plant cellulose fibers and hydrated silica, it meets all federal and state safety requirements without the use of harsh chemicals.
The PlushBeds Ocean Mist Mattress is a new and innovative mattress that will provide you with the best night's sleep. The patented open-cell structure helps dissipate body heat up to three times faster than gel memory foam, so you'll be resting soundly throughout the entire night in cool, dry comfort.
This latex-free bed feels great on your back because it never compromises pressure relief or responsiveness while using materials that don't contain any substances that can cause allergic reactions for either yourself or your partner. It also has been designed for minimal motion transfer from partners when they shift positions when sleeping.
Cypress Mattress by Brentwood Home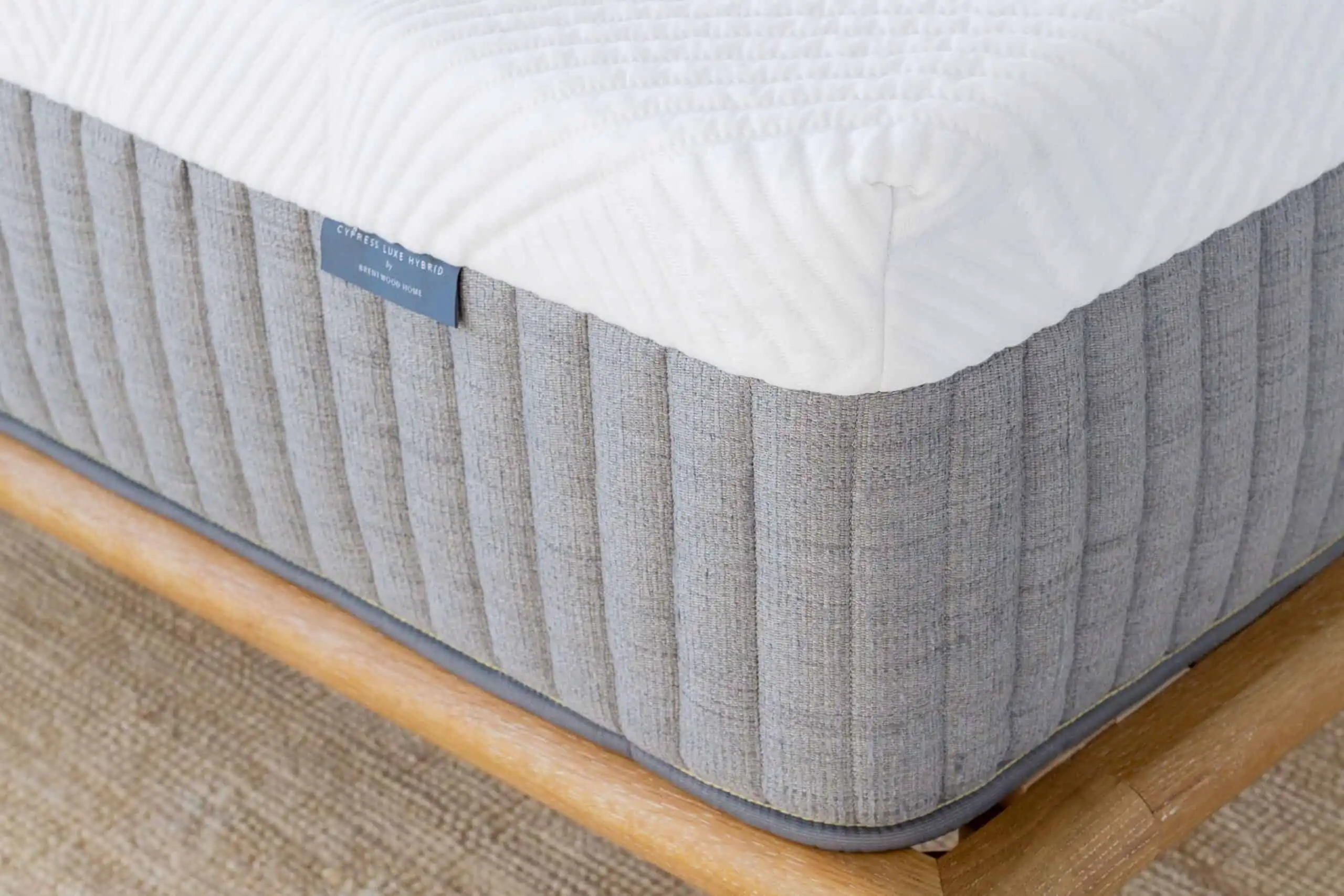 Cypress Mattress by Brentwood Home is a fiberglass-free mattress made from a fabric infused with natural silica sand, the same compound used to make opal gemstone. When exposed to flames during an emergency situation, this material will naturally char and self-extinguish without the use of chemicals or water!
The Cypress Mattress by Brentwood Home is available in two versions: all-foam and hybrid. With a CertiPur certified BioFoam with cooling properties, this memory foam mattress offers superb breathability for those who enjoy an airy night's sleep while still providing full support to provide comfort at every turn.
If you prefer something more traditional, the hybrid version might be just what you're looking for! Using memory foam as well as steel coils to maximize motion isolation and promote edge support - perfect if sleeping alone or sharing space with loved ones - this GreenGuard GOLD-certified mattress is available in different levels of firmness.
Organic Mattresses without Fiberglass
If you're looking for a mattress without fiberglass and toxic chemicals such as formaldehyde and VOCs, it's worth spending a little bit extra on a natural latex mattress. Organic mattresses are made from 100% natural materials and use natural fire retardants, such as wool.
Most of these mattresses are Greenguard GOLD, GOTS and GOLS certified, which means they're free from any potentially harmful compounds, including fiberglass. Take a look at these affordable options:
Pure Green Natural Latex Mattress
Pure Green Natural Latex Mattress
Mattress Type: 100% Latex Mattress
Certificates: GOTS, GOLS, OEKO-TEX Standard 100, Greenguard GOLD
Material: Latex, Organic Cotton, Organic Wool
Sleep Trial: 100 Nights
Warranty: 10 Years
Sizes: Twin, Twin XL, Full, Queen, King, Cal King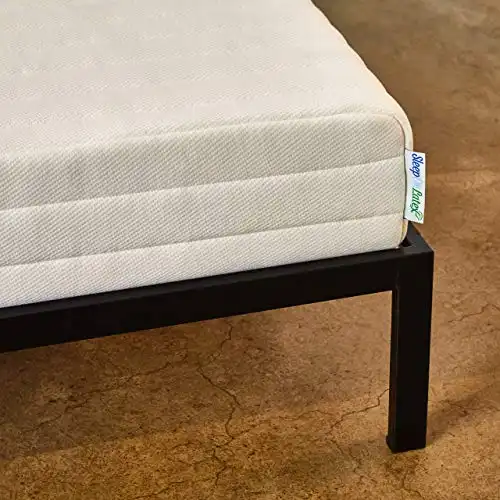 Pure Green Natural Latex Mattress uses wool as a natural flame retardant and there's no need for any fire retardant chemicals or barrier cloths, including fiberglass.
Pure Green mattresses feature only high-quality materials. There is no cheap synthetic latex, polyurethane foam, or polyester fabric used in other mattress manufacturers. This company makes their mattresses in Chicago and they see only certified organic materials such as GOTS cotton, GOLS latex and 100% wool.
This latex foam mattress meets Oeko-Tex Standard 100 and UL Greenguard Gold certification requirements for your peace of mind. Its medium firmness is ideal for back and side sleepers or couples that prefer different sleeping positions.
The natural latex mattress is breathable and hygienic because of the small air chambers in the latex. This mattress offers you superior support and pain relief for a small price.
Natural Bliss Mattress by Plush Beds
Natural Bliss Mattress
$1549 (Use promo code GREEN100 for a $100 discount)
Type of Mattress: 100% Organic Latex Mattress
Mattress Firmness: Soft, Medium, Medium Firm
Certificates: Greenguard Gold, GOLS, USDA,
Mattress Sizes: Twin, Twin XL, Full, Queen, King, and Cal King
Sleep Trial: 100 Nights
Warranty: 25 Years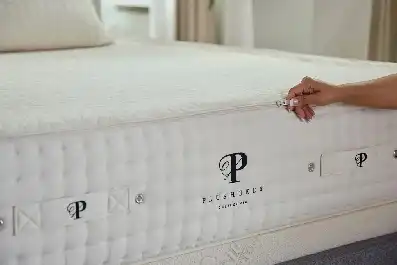 The Natural Bliss Mattress by Plush Beds uses a plant-based Eco Fire Barrier that uses natural fiber plants to keep you safe without fiberglass or toxic chemicals found in most mattresses.
The Natural Bliss Natural Latex Mattress is handmade in the US with the strictest and most rigorous standards. It is made from 100% natural, GOLS certified latex.
The stretch cotton cover of this mattress is also made from organic materials, which are ensured to be both chemical-free and environmentally friendly, thanks to GOTS certification. This vegan mattress does not contain wool or any synthetic materials such as foam.
This organic latex mattress is made of natural materials and specifically designed to be environmentally sustainable. In order for the mattress to live up to its name, it has these certifications: Oeko-Tex Standard 100, Greenguard Gold, FSC, USDA organic, GOTS, GOLS, Eco-Institut and Control Union certified for sustainability.
FAQs
Do Most Mattresses Contain Fiberglass?
It seems that most memory foam mattresses do contain fiberglass. It's because fiberglass is a cheap and non-toxic flame retardant and its use is not restricted by regulations.
Although there are some memory foam mattresses without fiberglass (such as Tuft and Needle and some Lucid mattress models) you'll have a much wider choice if you search for an organic mattress. These mattresses use wool or PLA (plant fiber fabric) as natural fire retardants.
What To Do If I Find Fiberglass In My Mattress?
If your mattress has got fiberglass make sure to:
These tips will help you reduce the risk of exposing yourself to glass fibers in your mattress, making it safer for you and your family.
Types of Mattresses Containing Fiberglass
Most mattresses containing fiberglass are made of polyurethane foam, which is a highly flammable material. It requires using the most effective fire retardants out there to protect you in case a fire breaks out when you sleep.
Although there are a few foam mattresses that use silica powder as a fire retardant, a vast majority of these mattresses use toxic chemicals with flame retardant properties or fiberglass. That's why your safest choice is an organic mattress that uses a plant fiber fire barrier or wool, which is an excellent natural fire retardant.
Does The Purple Mattress Have Fiberglass?
Purple Mattresses contain fiberglass within the yarn fibers and according to the manufacturer, the fiberglass is not present on the surface of the mattress, so you won't be exposed to it directly.
Read More: Why does my Purple Mattress smell?
Do Live and Sleep Mattresses Have Fiberglass?
The fire-retardant sock that wraps the foam in Live and Sleep mattresses is placed under the mattress cover and is made of silica fabric that contains 10% fiberglass. These mattresses are free from harsh chemicals used in fire retardants, such as PBDEs or TDCPP or TCEP.
Do Zinus Mattresses Have Fiberglass?
All Zinus Mattresses contain fiberglass. As long as you don't remove the cover, you should have no direct contact with the fiberglass barrier, but to be sure, you can use a mattress protector on top of it.
Do Lucid Mattresses Contain Fiberglass?
It depends on the model. While some Lucid mattresses contain fiberglass, some models use a fire-retardant, chemically-treated cotton and nylon cover. So, before buying a Lucid Mattress, be sure to check with the manufacturer whether it uses fiberglass or not.
Conclusions
While many people are unaware of the risks associated with fiberglass, it's important to understand that these mattresses can be dangerous for your health. The most common symptoms caused by a mattress made from this material include skin irritation and rashes.
More serious conditions such as asthma may also develop over time if you do not take proper precautions to reduce exposure to fibers in your mattress.
We recommend purchasing a natural latex mattress or memory foam mattress without fiberglass because they offer greater support and comfort while reducing health risks. Before you make a purchase, check the label or contact the manufacturer to make sure your new mattress is fiberglass-free.
Have you done anything else to avoid getting sick after buying a new bed? Let us know!